The new campaign for social housing is something to Shout about.
The message of the new Shout campaign is loud and clear: put social housing back on the agenda.
(with kind permission of the Guardian, 18 June 2014)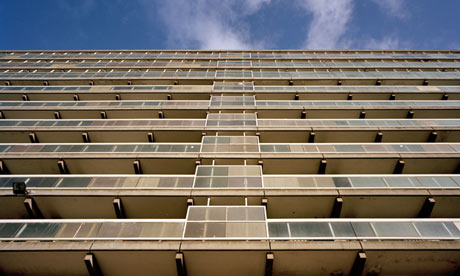 This week the official launch of Shout – the new campaign for social housing – will be backed by politicians from all parties, housing professionals and members of the public.
I'm delighted to see Shout (Social Housing Under Threat) as the response to my challenge last December to those who believe in social housing to speak out or see it go for good. Forty years ago in 1972 – and also in the Guardian – Tony Crosland wrote as the shadow cabinet's housing minister that local authorities will become "the main provider of … rented housing: and the notion that council housing is a welfare service only for those who cannot afford to buy will seem more and more wrong-headed."
His optimism was short-lived. Crisis overtook the Harold Wilson government in the mid-70s and spending on public housing was slashed. The Conservative government from 1979 was dedicated to running down any serious role for social housebuilding, preferring to let the housing benefit bill take the spending strain while housing became Margaret Thatcher's largest privatisation. During Labour's time in power from 1997, we secured £37bn of investment to bring social homes up to a decent standard, but only started on a serious building programme towards the end of the 2000s.
All this suggests that reviving the ambition for public housing in 2014 will be tough. But this is the task I hope that Shout can help take on and win. While politicians of Crosland's era would not have recognised our methods – it was not a Guardian newspaper article but a Guardian blogpost that started this campaign, and supporter contacts have not been made by letter but on Twitter – they would have understood the cause. The same principled reasons that drove the post-war generation of politicians and policy makers to build homes fit for heroes are still relevant today.
And if anyone doubts the urgency of Shout's cause, they need only read the latest Homes and Communities Agency prospectus. After coalition ministers cut grant funding for new social homes by more than 60% in 2010, their new prospectus starkly confirms the marginalisation of genuinely affordable housing: "social rent provision", it says, "will only be supported in very limited circumstances".
The campaign is a challenge not just to the Conservatives but to all parties. Each has said they want to end the housing crisis but none so far have made a commitment to the measures needed to achieve this goal. That's why the time has come to Shout about social housing.
The Shout manifesto will launch on 18 June. You can find out more about the Shout campaign on Twitter at @4socialhousing or on Facebook
John Healey is the Labour MP for Wentworth and Dearne and a former housing minister
Do you like this post?
---